Classics for Year 8 Students
Classics are a genre of literature that have been popular for centuries. These are books that are considered to be timeless due to their ability to transcend history and culture, and are still enjoyed by generations of readers. Year 8 is the perfect age to introduce students to the world of classic literature, as they are old enough to grasp the concepts and themes presented in these texts. Classics can help students develop their critical thinking skills, vocabulary, and knowledge of different cultures and time periods. Here are some recommended classic books for Year 8 students:
To Kill a Mockingbird by Harper Lee
To Kill a Mockingbird is an American classic written by Harper Lee. The story is set in the 1930s in the Deep South and follows the life of a young girl named Scout Finch as she grows up and learns about the injustices of racism and prejudice. This book is a powerful read that teaches valuable lessons about empathy, compassion, and the importance of standing up for what is right. It is a must-read for all Year 8 students and is sure to leave a lasting impression.
The Adventures of Huckleberry Finn by Mark Twain
The Adventures of Huckleberry Finn is another classic American novel written by Mark Twain. The story is set in the 1800s and follows the adventures of Huck Finn and his friend Jim, a runaway slave. The book deals with important themes such as freedom, slavery, and morality. It is a thought-provoking read that is perfect for Year 8 students as they can begin to understand how literature can address and raise awareness of important issues.
The Picture of Dorian Gray by Oscar Wilde
The Picture of Dorian Gray is a novel by Oscar Wilde. It is a story about a young man named Dorian Gray who sells his soul to retain his youthful appearance. The book explores themes such as morality, vanity, and the consequences of our actions. Year 8 students will love the Gothic themes, and Wilde's use of language and imagery will expand their vocabulary and leave them captivated.
The Great Gatsby by F. Scott Fitzgerald
The Great Gatsby is a novel by F. Scott Fitzgerald. The story is set in the 1920s and is about a young man named Jay Gatsby who becomes involved with a wealthy socialite named Daisy Buchanan. The book explores themes such as the illusion of the American Dream, the corruption of money, and the desire for power. Year 8 students will enjoy the glitter and glamour of the roaring 20s, and the book's themes will help them develop their analytical skills.
These classic books have stood the test of time and remain relevant today. They offer important life lessons, universal themes, and are a great way to introduce Year 8 students to the world of classic literature.
Contemporary Books to Read and Enjoy
Reading is essential, and at a young age, it's important to start cultivating good reading habits. If you're looking for contemporary books to read and enjoy, then you've come to the right place. Here are some recommended options for year 8 students.
1. The Fault in Our Stars
This novel by John Green is an emotional rollercoaster that tells the story of two teenagers, Hazel and Gus, who are both battling with cancer. The book follows their journey as they fall in love, deal with the harsh realities of their illnesses, and search for answers about life and death.
2. Wonder
Wonder by R.J. Palacio is about a boy named August Pullman, who was born with a facial difference that caused him to stand out. The story highlights his struggles to fit in when he goes to a mainstream school for the first time. This novel is a heartwarming tale that teaches important lessons about kindness and acceptance.
3. The Hunger Games
The Hunger Games by Suzanne Collins is a thrilling dystopian novel that captures the attention of both young and old readers. The story is set in a post-apocalyptic world where teenagers are forced to participate in a brutal fight to the death called the Hunger Games. This novel is action-packed and touches on themes of power, oppression, and survival.
4. The Maze Runner
The Maze Runner by James Dashner is another popular dystopian novel that is a must-read for young adults. The story follows a group of teenagers who wake up in a dangerous maze with no memory of their past. This novel is filled with suspense, mystery, and action that will keep you on the edge of your seat.
5. Divergent
Divergent by Veronica Roth is set in a world where society is divided into five factions, each based on a specific trait. The story follows a teenage girl named Tris, who discovers that she's Divergent, meaning she doesn't fit into just one faction. This novel is a thrilling ride that deals with themes of identity, conformity, and rebellion.
In conclusion, reading contemporary books is a fantastic way to stimulate your imagination and broaden your horizons. These books are just a small fraction of the vastly diverse and exciting range of books available to read. So, whether you prefer romance, action, suspense, or dystopian fiction, you're sure to find something that will captivate you.
Recommended Non-Fiction for Year 8
Non-fiction books can be just as exciting and interesting as fiction, especially with the right recommendations. Here are some highly recommended non-fiction books for Year 8 students:
The Boy Who Harnessed the Wind: Young Readers Edition by William Kamkwamba and Bryan Mealer

This inspiring true story follows the life of William Kamkwamba, a boy from Malawi who teaches himself how to build a windmill to bring electricity to his impoverished village. This young reader's edition is perfect for Year 8 students as it offers an accessible version of the original memoir and includes photographs, illustrations, and an epilogue.

Steve Jobs: The Man Who Thought Different by Karen Blumenthal

This biography explores the life of Steve Jobs, the co-founder of Apple, and the impact he had on the technology industry. The book covers his early life, his success with Apple, and his contributions to the company's iconic products. This is an ideal book for Year 8 students interested in technology and entrepreneurship.

The Omnivore's Dilemma: Young Reader's Edition by Michael Pollan

In this book, Michael Pollan explores the question of where our food comes from and how it is produced. The young reader's edition offers an abridged version of the original book, making the content more accessible to Year 8 students. This book is ideal for students who are interested in food, sustainability, and environmental issues.
Reading non-fiction books in Year 8 offers many benefits. It expands students' knowledge and understanding of the world around them, improves their reading ability, and develops research and critical thinking skills. All three of these books are highly recommended for Year 8 students who are looking for an enjoyable and educational reading experience.
Diverse Voices and Perspectives
Having access to diverse voices and perspectives in literature is critical for building empathy and understanding of others. Here are some great reads that offer just that:
1. Brown Girl Dreaming by Jacqueline Woodson
Jacqueline Woodson's memoir, written in verse, tells the story of her childhood as an African American growing up in the 1960s and 1970s. It's a beautiful and poignant exploration of identity, family, and community.
2. Inside Out and Back Again by Thanhha Lai
Inside Out and Back Again is a novel in verse that follows the story of a 10-year-old girl, Ha, as she and her family flee Vietnam during the war. The book explores themes of identity, home, and the immigrant experience.
3. The House on Mango Street by Sandra Cisneros
The House on Mango Street is a coming-of-age story about a young Latina girl growing up in Chicago. Through a series of vignettes, the book explores themes of identity, race, class, and gender.
4. The Hate U Give by Angie Thomas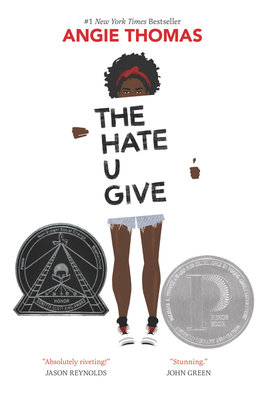 The Hate U Give is a powerful young adult novel that follows the story of Starr Carter, a 16-year-old African American girl who lives in a poor, predominantly black neighborhood but attends a wealthy, predominantly white school. When she witnesses the fatal shooting of her childhood best friend by a police officer, Starr finds herself at the center of a national outcry for justice. The book explores themes of race, police brutality, and the Black Lives Matter movement. It's an incredibly timely and important read for young adults today.
5. Refugee by Alan Gratz
Refugee is a historical fiction novel that follows the stories of three child refugees from different parts of the world: Josef, a Jewish boy fleeing Nazi Germany in the 1930s; Isabel, a Cuban girl on a raft to America in 1994; and Mahmoud, a Syrian boy escaping the civil war in 2015. The book explores themes of war, displacement, and the resilience of the human spirit.
6. Born a Crime by Trevor Noah
Born a Crime is comedian Trevor Noah's memoir about growing up as a mixed-race child in apartheid South Africa. The book explores themes of race, identity, family, and political history. It's a fascinating and funny read that also offers a lot of insight into the complex issues of race and racism in South Africa and beyond.
No matter which book you choose, reading diverse voices and perspectives is a great way to broaden your horizons and gain a deeper understanding of the world around you.
Graphic Novels and Illustrated Books for Year 8
Year 8 is a crucial year in students' academic life. This is the year they begin to acquire skills and knowledge that will shape their academic and professional life. One of the ways students can achieve this is by reading books that match their ability level and challenge them to improve their reading skills. Illustrated books and graphic novels are excellent choices for year 8 students. They captivate students' attention, expose them to new ideas and concepts, and inspire their creativity. Below are some recommended reads for year 8 students in the illustrated books and graphic novel genres.
1. Maus: A Survivor's Tale by Art Spiegelman
Maus is a graphic novel that depicts the life of a Jewish survivor of Hitler's Europe and his son, a cartoonist struggling to come to terms with his father's traumatic history. The book portrays Jews as mice and Nazis as cats, highlighting the horrific ordeals the Jews went through. This book exposes year 8 students to the Holocaust and how it affected the Jewish people, opening their eyes to the atrocities of war and the importance of speaking out against hate and oppression. It is an excellent choice to develop moral and ethical values in students.
2. Nimona by Noelle Stevenson
Nimona tells the story of a shapeshifter who teams up with a supervillain to wreak havoc on the world. The comic features a mix of humor, action, and unique storytelling that captivates year 8 students' attention. It is an engaging and entertaining book that exposes students to the comic book world and the different styles and techniques used by comic artists.
3. The Arrival by Shaun Tan
The Arrival is an illustrated book that tells the story of a man who leaves his home and family to find a better life in a foreign land. The book has no words, but the pictures convey powerful emotions and messages. The story highlights the challenges immigrants face in new lands and the sacrifices they make to ensure a better future for their families. This book is an excellent choice for year 8 students to learn about empathy and appreciate diverse cultures.
4. Amulet Series by Kazu Kibuishi
The Amulet series is a graphic novel that tells the story of siblings Emily and Navin who find a magical amulet in their new home that leads them on a dangerous and exciting adventure. The series challenges children's courage, leadership, and problem-solving abilities. It features compelling characters, a captivating plot, and visually stunning illustrations that will leave year 8 students excited for what comes next.
5. The Arrival of Wang by Marco Polo
The Arrival of Wang is a graphic novel that explores the world of extra-terrestrials and how they perceive humans. The book follows two federal agents who are assigned to investigate a UFO sighting in the Middle East. The story raises questions about the existence of other life forms, the possibility of communication, and the limits of human understanding. It is an excellent choice for year 8 students who have an interest in science fiction.
Reading graphic novels and illustrated books can be an exciting and immersive experience for year 8 students. The books provide students with lessons on empathy, social justice, diversity, and more. These five recommendations are excellent starting points to help year 8 students develop their reading skills, inspire their imagination, and shape their worldview.